Top 5 Bollywood Celebrities Who Rocked The Handloom Saree Look This Week!
Posted by Sreerekha Madivala |
If there's one particular type of clothing that has endured the onslaught of ever-so-changing fashion trends, it's none other than Indian Sarees – 6 yards of elegance! They are evergreen; they are regarded as one of the most prized possessions in the wardrobes of million Indian women. The obsession is not only limited to the fleet of common women, celebrities too have vouched their undying love for this royal garment – and this post is a testimonial of how celebrity women love to don drapes in ways that's worth all the effort!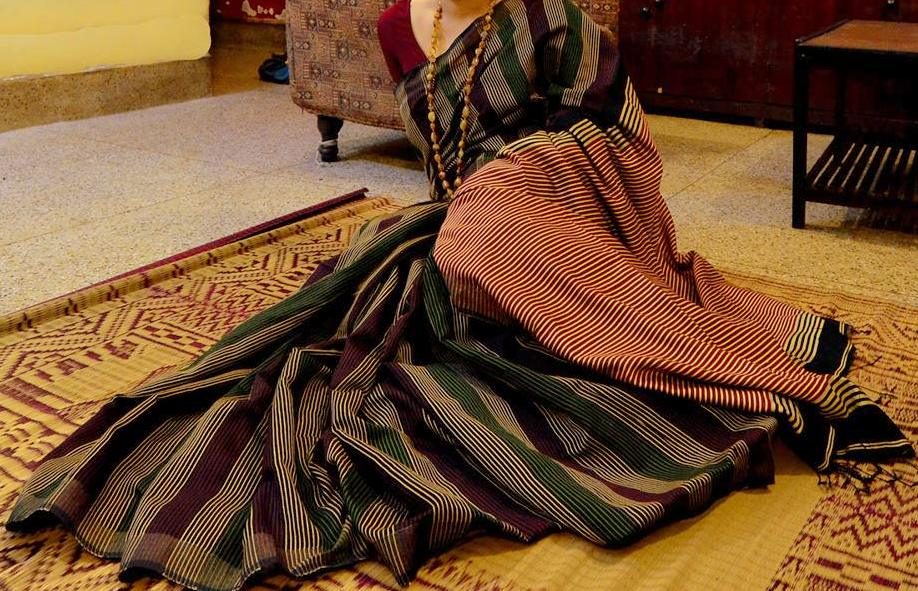 Tisca Chopra
Widely acclaimed for her clutter breaking roles and vibrant personality, Tisca Chopra is strong, confident and one of a kind. Not only in films, but her eccentric persona is evident in her choice of fabrics. In a recent event in Bhubaneshwar, she was spotted flaunting a gorgeous purple-green Sambalpuri Saree, and she spilled out ENIGMA!!! The best part, she shared the ramp with acid attack survivors.
If you want to fill your cart with sartorial epitome, do check out our enchanting collection of Orissa handloom sarees online only available at: 
https://myroots.desi/products/black-with-red-sambalpuri-ikkat-cotton-saree
Samantha Prabhu
A powerhouse actor coupled with impeccable fashion sense, Samantha Prabhu has our hearts locked. The gorgeous lady from Tamil and Telugu film industry have been grabbing eyeballs of many with her subtle yet striking style statement. Be it contemporary or classic, she knows how to make heads turn. From elegant drapes in muslin to comfy cotton, her choice in fabrics reflects PERFECTION!!
To shop online handmade sarees collection, drop by 
by https://myroots.desi/products/bright-sandal-colored-handloom-khadi-silk-saree
Mithila Palkar
Big naths, quirky looks and classic sarees – Mithila Palkar, Internet's golden girl is all about these three and lot more!!! With her cutesy nature, hooking on-screen appearance and charming persona, this millennial sensation is stealing hearts. And we do adore her, even more, when she stuns us with her eccentric draping styles.
Mithila truly reminds us all of simpler times…
Peruse over our cotton saree collection online at https://myroots.desi/collections/handloom-cottonsilk-saree
Mini Mathur
A model turned actor turned popular social figure, Mini Mathur is an extremely fashionable, contemporary women whose taste in sarees is incredible. From fuss-free cotton sarees to tantalizing printed chiffon sarees, her style is nothing short of SPECTACULAR.
Her love for super comfy yet classic linen sarees knows no bounds. Wrapped in gorgeousness, this B-town beauty sizzles a lot in these attires. <Drool-Drool>
If you appreciate her modest sense of style, do check out our exclusive collection of plain linen sarees, only available at https://myroots.desi/collections/pure-linen-sarees
Vidya Balan
If anybody out there who has completely owned the art of draping a saree perfectly, it's our very own Vidya Balan. Her love for the waning art of Handloom is known to all. Her love for handloom is unconditional but what we love the most in this woman is the way she carries herself!! Mind-blowing is the only word that comes to our minds, when we regal at this gorgeous Bollywood beauty, wrapped in love!
Want to look absolutely stunning just like here? Browse over our traditional Maheshwari sarees collection at https://myroots.desi/collections/maheshwari-silk-saree and fill your carts with happiness!