Outfit ideas to Bring out the Essence of Eid!
Posted by Sreerekha Madivala |
The much awaited, auspicious festival of Eid is just round the corner! With Chaand Raat only a few days away, it must be a busy time for last-minute shoppers. A special occasion like Eid-al-Fitr necessitates that you dress your best and gift exclusive apparels to all your loved ones. Here, we provide some outfit ideas based on latest ethnic trends of 2018, to help you look resplendent, whether you are dressing for a lavish Iftar party, or a fun gathering with friends, or an evening of festivity with family.
Kalamkari Dress Material:
From young to old, salwar kameezes are essential clothing in every woman's wardrobe. Especially popular with young girls, a trendy and colorful Kalamkari cotton dress material will add to the prettiness of young girls. Often, we are clueless about the size and preferences of our relatives. In such cases, salwar suit dress materials are a smart choice. She can design it herself and get it tailor-made to fit her perfectly. We all know that it's impossible to wear anything except for cotton clothes in Indian summers. Myroot.desi's dress materials online are made from cotton and feature vibrant kalamkari motifs. They are loved by girls and women alike. Perfect for wearing to work, casual outings and traditional occasions; tailor-made cotton salwars are highly functional.
Floral prints are all the rage in 2018! So, if you buy kalamkari dress materials online, you are abiding by the latest trends too! Now, if you are pondering over ways to style dress materials, then here are some tips to help you!
Anarkali Suit: 
Long and flowy, anarkali kameezes are the current fashion obsession. A kalamkari dress material is one of the best fabrics to make an anarkali kammez with. Use the plain fabric to create the upper bodice and the kalamkari printed fabric to create the flared pleats and arms of the kameez. Straight ankle length pants will go best with this.
Funky Arms:
Funky arms are one of the hottest trends this season. You can style the arms of your Kameez following the design shown below. Ask your tailor to cut out some floral printed cloth and make frills at the end of full-length sleeves.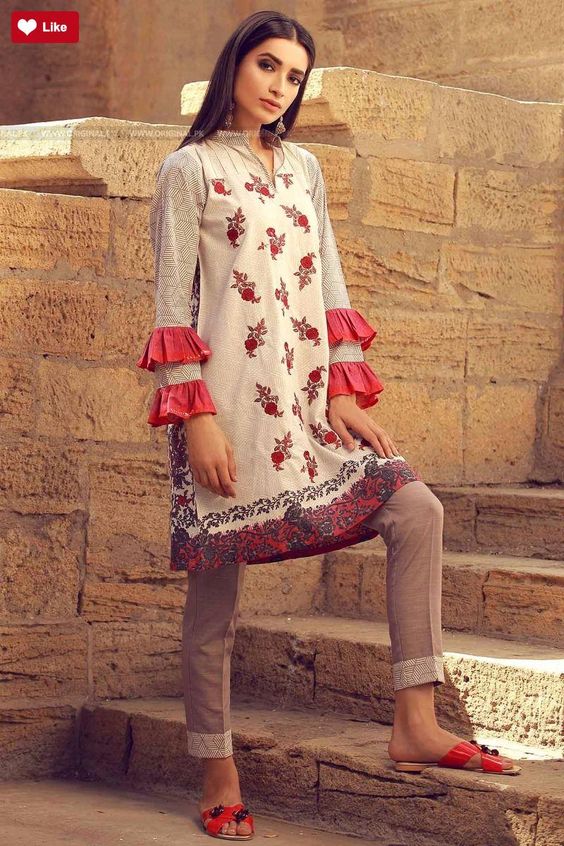 Gharara Pants: 
Gharara pants are rocking the fashion circuits this season! They flare from below the knees. If you haven't tried on yet, then you should totally get one tailor-made this Eid. They key to looking good in Gharara pants is to understand your body type. Petite women can opt for short kameezes or long ones ; they help creating a taller silhouette. On the other hand, curvy women look best in knee-length kameezes.
Scarves:
Scarves are another essential clothing item of a woman's wardrobe. Myroots.desi's collection of designer scarves and dupattas online are sure to suit your taste. We have something for everyone.
These colorful cotton dupattas with intricate sequence work are great for adding some spark to your outfits!
Chanderi Dupattas with Kalamkari prints look beautiful with kurtis and are perfect for contemporary women.
If you love the sheen of silk, then our pure Ikkat silk dupattas are a must-add to your festive ensemble. Lightweight and lustrous, they look absolutely regal!
Bengal Handloom Sarees:
If you are a woman who loves to drape the 7 yards of pure elegance, then you must check our collection of handloom cotton sarees with price. Vibrant, charming yet comfortable, they will add finesse to your Eid look!