Narayanpet Sarees: The Weave That Binds Culture and Royalty
Posted by Sreerekha Madivala |
We love dreaming designs, palettes and colors.. In variations that's intrinsically Indian. India is a land of contrasts – this subcontinent is blessed with a unique merger of cultures of various princely states and areas that produces some of the beguiling weaves and styles heralded for centuries for their unabashed beauty and artistry.
The Narayanpet saree is one of them – regarded as the garment of the Gods, these traditional sarees show the charming influence of two states of Maharashtra and Telangana (a part of former Andhra Pradesh). Once a part of the royal patronage of the Marathas, Narayanpet sarees are still helping the contemporary Indian women in keeping their Saree Game going strong.
Origin
Narayanpet, a quaint village in the south of India, is the place of origin of Narayanpet sarees. To be precise, the sarees are handcrafted from a village called Kanukurthy, situated in Damaragidda mandal of Narayanpet division in Mahabubnagar district of Telangana, bordering Yadgir/Gulbarga districts of Karnataka. As a result of which, you can see a lot of Marathi, Kannadiga and Telegu influences on the sarees – the colors are rich, the motifs are downright traditional and the gold borders are lustrous and bright.  
Weaving style
"Narayanpet sarees are characterised by a broad zari border with temple motifs, while the surface design is woven in a contrasting shade with light or big checks. Sometimes, the body may have flower motifs or bootis woven with golden threads," says a skilled artisan.
 It is said, the weaving style traces back to the golden period of Chhatrapati Shivaji, who then travelled to this sleepy town for a campaign. Though he left the place after staying for a few days, some of the weavers from his entourage preferred to stay back and continued developing their work, and that's how the Maharashtrian influence became so vivid on the textured Narayanpet sarees.
Technically speaking, the Narayanpet handloom sarees are mostly made of cotton, using 80 count mercidised cotton yarn for warp and 80 count regular cotton yarn for weft. The border is 64 double mercidised cotton yarn. Each saree is of 6.2 meters in length.
The base material is bought from Vijaywada. The manufacturing process of these sarees is interesting, because eight sarees are created at the same time on the loom. This means, instead of putting on normal 7 yards of fabric on the loom, around 56 yards of silk are mounted in one go.  
Colors
Narayanpet sarees are mostly produced in cotton, pure silk and cotton-silk variants. They are hand woven in mostly dark, earthy shades, with checks all over the body to ace up the oh-so-ethnic look. The pallus and borders are also very traditional and rich in patterns. While the pallus are mostly done in the hues of red and white bands, the border consists of a broad stretch of red, deep maroon or chocolate red. Light in weight, these sarees are sometimes contrasted with simple zari designs too.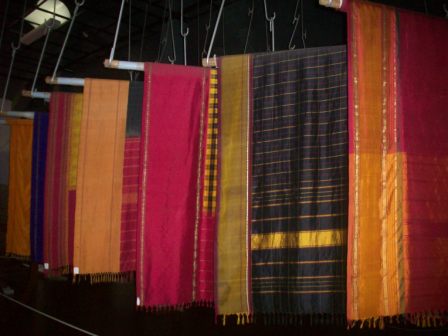 There's been a constant surge in demand for Narayanpet sarees – from time immemorial. And still, they are gaining a lot of accolades. Their effortless grandeur and traditional beauty has not only stood the test of time, but are still winning hearts of young women of 21
st
century.