Eyes on Style: Cotton Saree Ideas To Bring Out The Diva In You
Posted by Sreerekha Madivala |
Cotton sarees in soft textures became very popular during the 1970s and 80s because women wanted easy-to-wear sarees that felt comfortable and were simple to maintain. Even today, this unique Indian entity enthralls women and is sought after by notable personalities of the fashion world. These antique weaves are being revived with contemporary sensibilities by prominent fashion houses for today's dynamic women!
Designer cotton sarees
The world of cotton sarees is a thrilling place to explore. The artistic combination of prints, patterns, designs, colors and a range of other factors create uniquely beautiful cotton sarees that never fail to amaze us. Weavers tap into traditional techniques of printing and designing and merge these with trendy elements to churn out mesmerizing creations. The soft and breathable fabrics are soothing to drape all year round. The fine counts of cotton enable weavers to bring out highly intricate detailing. Cotton having a strong affinity for dyes allows smooth etching of designs that stand out sharp.
These attractive ethnic sarees have gained esteem among all age groups. Earlier costly silks and heavily embroidered sarees were reserved for special occasions. Presently, stylish cotton sarees have become the popular party wear.
The combination of silver jewelry with your saree collection in cotton works like magic! The look is minimalist and oh-so charming! There are many varieties of cotton saree. Below are two exclusive varieties that must make it to your season's collection of cotton sarees:
Kargil cotton saree
Kargil sarees look gorgeous, feel super comfortable on skin and most importantly are light on your pocket! These sarees are an example of how social and political scenario shapes the fashion of a particular time. The name ''Kargil'' is suggestive of the period during which these sarees were first created. They originated during the Kargil war in the village of Maniabandha in Odisha. These drapes are simple with distinct borders. The borders are adorned with peak-like structures in contrasting colors, which resemble the mighty mountain peaks where the war was fought. Another distinctive feature of these sarees is the prominent chakra on the pallu. The Konark wheel of time was a way of expressing patriotism during the war times and is beautifully woven in the pallu. The unique charm and breathability of these sarees is winning hearts all around the world!
Sambalpuri cotton sarees
These traditional sarees are renowned hand-woven sarees created in Odisha. Mostly, the exotic art of tie-and-dye is used to weave these sarees. It is a labor intensive and time consuming process that usually takes days to complete. The elaborate designs aren't prints, but are dyed into the weft and warp threads before they are woven in the loom. The colors are vibrant and the patterns intricate and captivating. The final product is exquisite and has garnered fame from all corners of the world!
Drapes rebooted
Contemporary stylistas are combining their admiration of western silhouettes with their love for Indian cotton sarees. They are draping them over pants, wearing them with tops as blouses, and teaming them with sneakers! And it looks so chic and cool! The mood that underpins this new wave of saree draping is the desire to incorporate sarees in the fast-paced lives of urban women. Earlier sarees were reserved for special occasions, but modern women are making it a part of their working wardrobe by draping them in functional ways.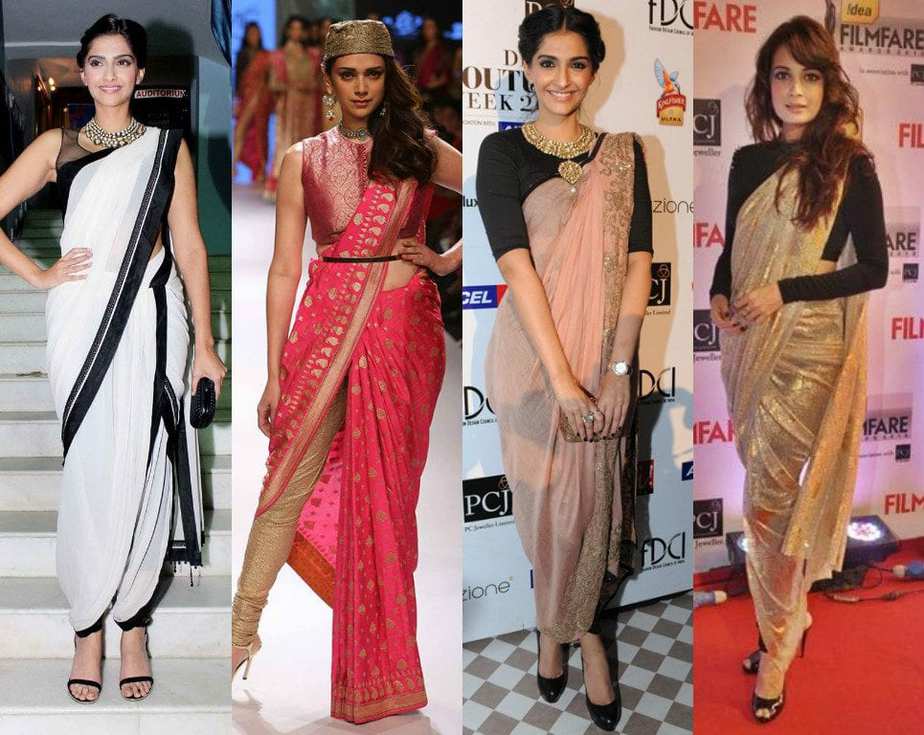 So this season, shop for designer sarees online to your heart's content and drape them uniquely to create your own style statement!