Chikankari: How the Traditional Lucknow Embroidery Contoured Into a Go-To Fashion Ensemble
Posted by Sreerekha Madivala |
In simple terms, Chikan stands for embroidery, which is delicate and floral-inspired. Chikankari is one of the most ancient forms of embroidery, originating from the land of Nawabs, Lucknow. It's believed to be introduced by the Mughals – since the Mughal Emperor Jahangir's consort, Noor Jahan had a certain fondness for this particular craft, Jahangir flourished it under his royal patronage. Since then, Chikankari art form had a firm presence in Indian art arena and now it's been a global sensation.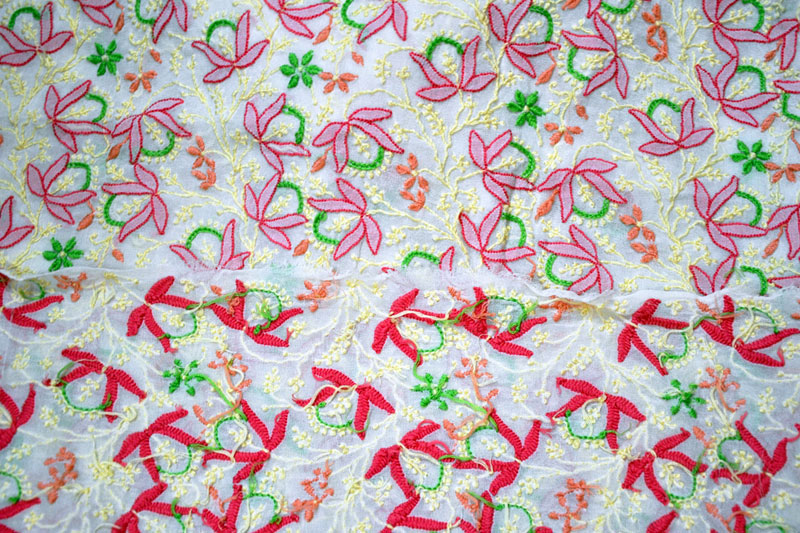 The Artwork
Breaking down the facts, Chikankari handwork comprises of 36 different stitching techniques – each and every stitch is incorporated to perfection. The main essence lies in its simplicity and neatness. Owing to a strong Persian influence, flowers play a prominent role in all Chikankari handiwork. Floral motifs, including buti, leaves, paisley and stems are a staple in diverse Chikan work. Though, over the years, the designs and styles have undergone strict modifications, but the overall pattern has remained fairly intricate, graceful and the same.
The Fabric and Embellishments
Back in the day, the precise craftsmanship was evident only on colorless muslin or mulmul cloth as a white thread on white fabric embroidery. It was then called Tanzeb. But today, Chikankari art has diversified and can be found on numerous fabrics and colors, mostly in muted shades or pastels. Though, Lucknow is regarded as the epicenter and connoisseur of this art yet it's evident that Chikankari has spread all over India and abroad.
In contemporary India, Chikan embroidery is often accompanied with intricate embellishments of Mukaish, Badla, Kamdani, sequins, pearls and mirror. The work is detailed, artfully executed, looks breathtaking and flaunts a unique sensibility of the wearer who dons it.
The Contemporary Influence
As always, this remarkable art form has enjoyed the tutelage of the royals: once the Mughals, now the A-labeled designers, who are obsessed with uplifting the current status of ancient Indian craftwork. Though we admit, these designers are not ROYALS literally, but in the fashion world, they are nothing less. Two iconic designers, Abu Jani and Sandeep Khosla have been working on Chikankari for some 20 years or more: they even convinced Judi Dench to flaunt one of their extravagant Chikan creations for an Oscar ceremony. Now, that deserves some good round of applause!
Apart from them, numerous indigenous designers and labels are involved in the evolution story of Chikankari in Modern India.
MyRoots Desi plays a pivotal role in nationally restoring the grace and enigma of Chikankari embroidery sarees. With more than 500 manufacturers and half a million workforce associated with this trade, Chikankari craft is witnessing a glorious revival. The past couple of years alone have witnessed a surge in demand in both domestic and international markets. At present, the Chikankari industry employs a whooping 2.5 lakh artisans, and is regarded as one of the largest artisan pools in India.
Shop Chikankari saree online India and witness beauty in all its glory!